I LOVE WordPress with passion. And one of the best things about this platform is the availability of different themes to suit everyone's tastes and needs. There's about a gazillion free themes out there, and choosing one is a lot more difficult than shopping for cover stays . You can even build your own if you want to. There are also several wordpress theme clubs offering unique premium themes to give your site the added edge.
Personally, I prefer to use premium themes. I do build a lot of sites, so premium themes is a good choice for me. Most of them are very well coded, offers a unique and professional look, saves me time from doing a lot of tweaking, and one big deal for me, your site will stand out. I have nothing against free wordpress themes, in fact, I use them quite often (see this blog is sporting an awesome free theme with added customizations) but if you really want to add that unique pizzazz to your site, you can customize a free base theme or getting a premium theme would be one way to go.
The downside of premium themes is the price. Yup, some of them are pretty steep. Some overly so. But there are theme clubs out there that I think are worth the buck. Here's my favorites: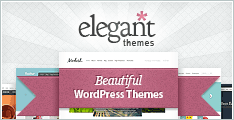 Elegant Themes – Gorgeous, gorgeous, gorgeous themes. Elegant Themes are really eye catching, has a host of customization options, a very good support forum, and best of all? The PRICE! For only $39 per year you get access to all themes. To date, Elegant Themes has about 81 and they regularly churn out new themes. So that's bang for your buck, for real! They've got themes geared for shops, personal blogs, portfolios, photography sites and more.
I've been using Elegant Themes for years already and I've never been disappointed. The only complaint I would have is that, they often come up with a new theme, just after I changed themes and after seeing the new one, I want to change it again.
StudioPress – Home of the Genesis Framework. Another favorite. Beautifully coded framework which you can easily tweak to your hearts content. But if you're not up to the customization bit, then Genesis has child themes available for free or premium. The framework costs $59.95. What I love about the Genesis Framework is the simplicity. It also have a very professional vibe which is great if you are building sites for corporate use or for business.
Another place I go to for premium themes is Theme Forest. It's not exactly a theme club, more like a marketplace for themes. You can find all sorts of pro wordpress themes with affordable prices.